Data confirms early student recruiting: Firms hosted 3x more interviews in June YoY
We analyzed the timing and volume of interviews hosted by law schools and law firms on Flo Recruit over the past three years. The findings? Interviews started early, with 3x more interviews hosted by law firms in June 2023 than in June 2022.
Flo Recruit is proud that we have supported over 200 clients through monumental shifts in legal recruiting practices from 2018 to date. For the past three years, the majority of the industry's interviews have been scheduled and/or hosted on our interview platform, now as part of Flo Recruit Applicant Tracking. Today we share law student recruiting insights resulting from aggregate data of 110+ law schools and career fairs and 90+ law firms.
Starting with virtual interviews hosted by law schools, 2023 YTD patterns stand out from 2021 and 2022. 2023 law school interviews peaked earlier, in June rather than August, and a "double peak" emerged - presumably as a result of the structured early programs some schools hosted in addition to more standard August OCI's.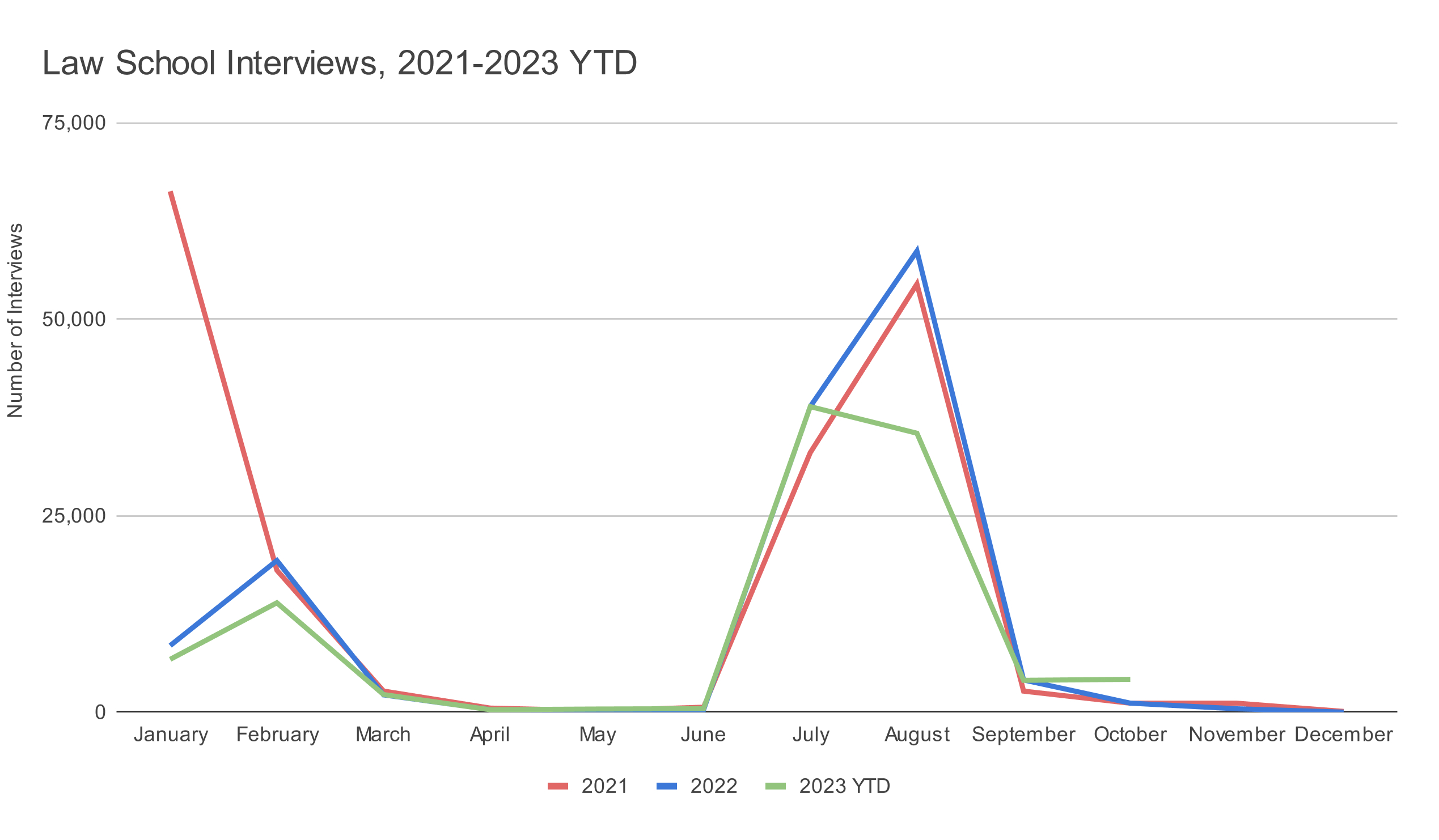 Digging into timeline details, we break down the distribution of law school interviews hosted by month. In 2021, 80% of June-August interviews took place in August. This dropped to 60% in August 2022, then down to 42% in August 2023.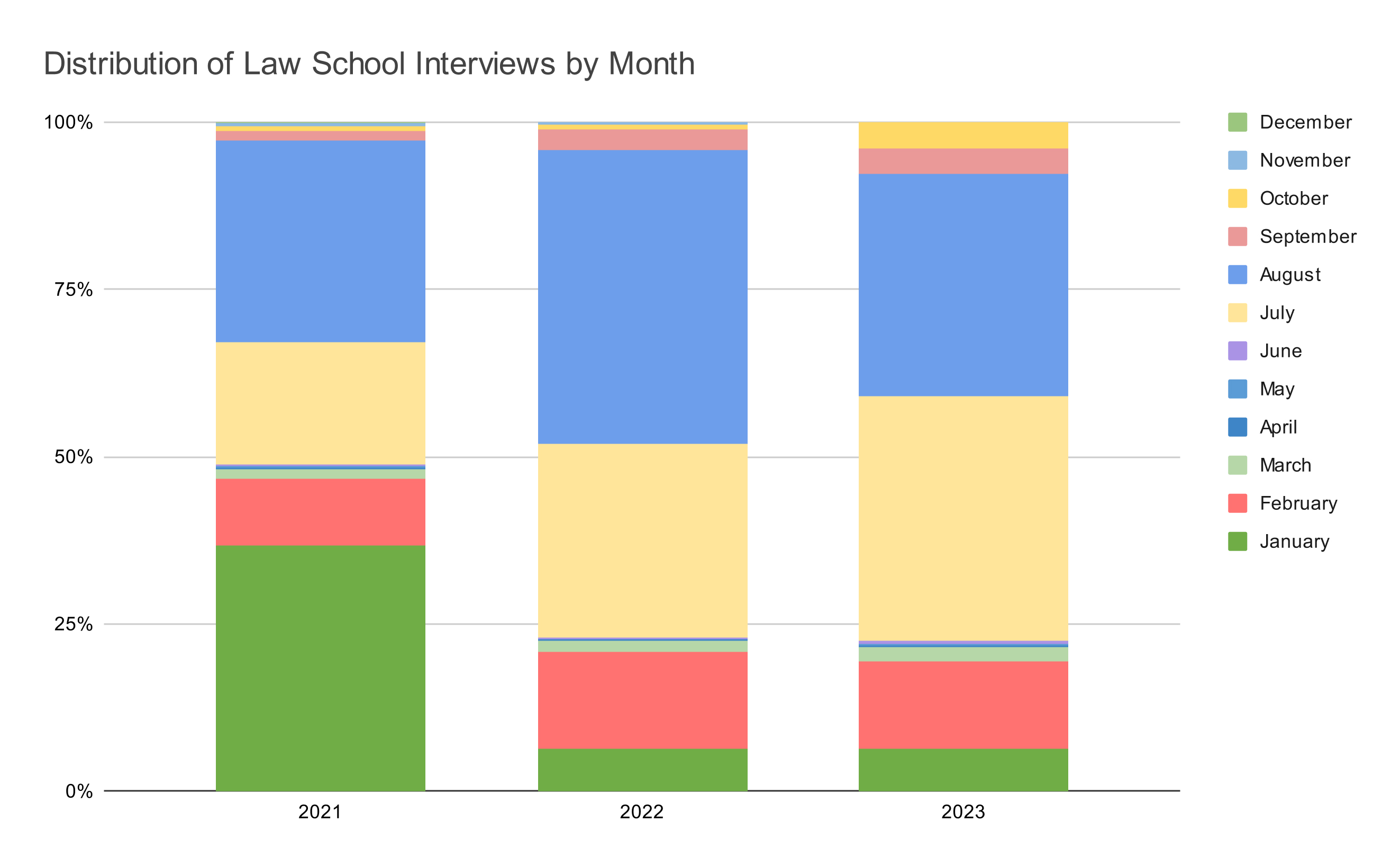 Isolating June, July and August below removes 2021 outlier data, when the 2020 2L recruitment season was pushed into January of 2021, and further elucidates summer shifts.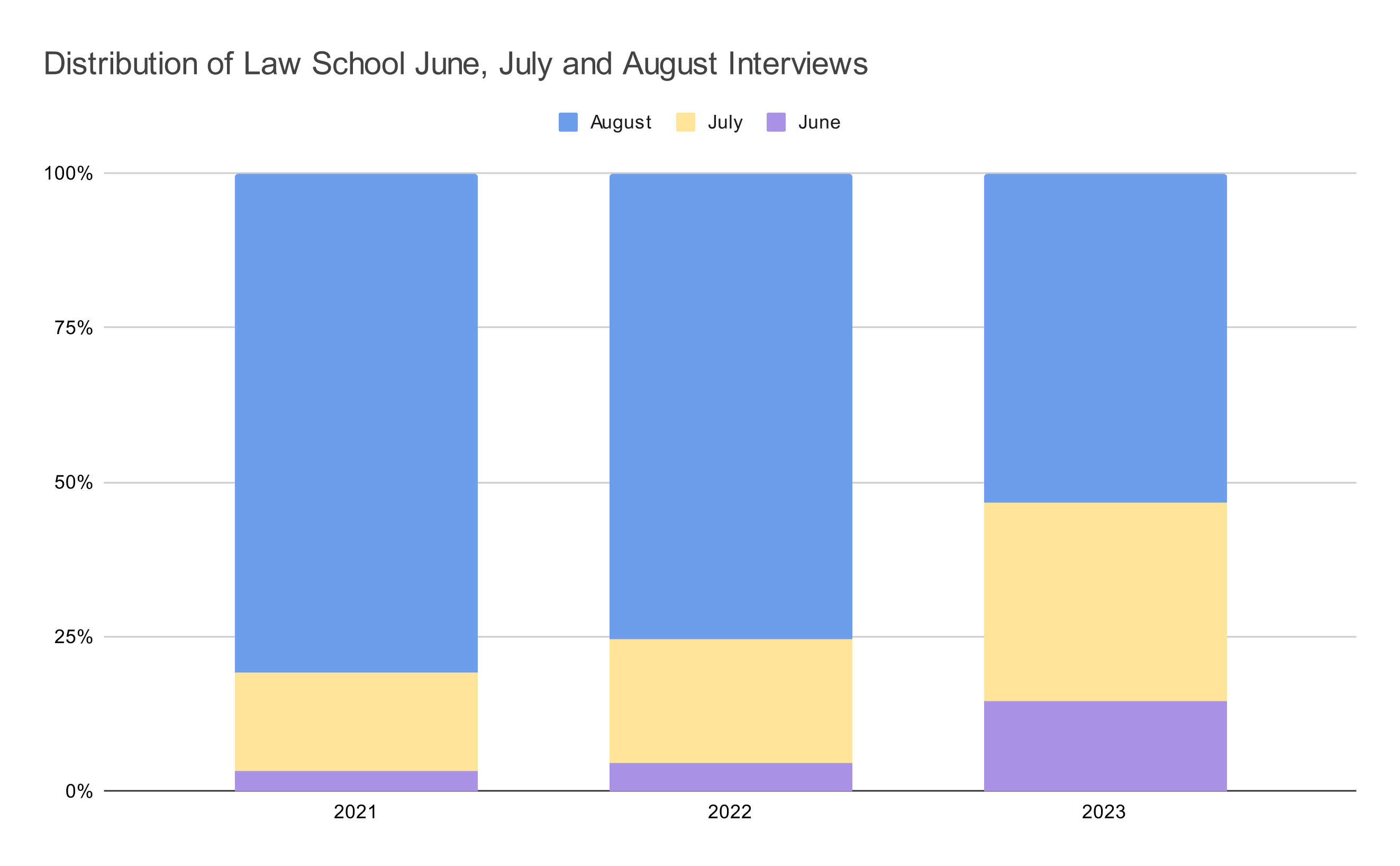 Each year, law school interviews shifted by greater proportion into June and July. Compared to summer 2022, 2023 showed a 46% increase in the proportion of law school interviews hosted in June, a 0% change in the proportion hosted in July, and a 40% decrease in the proportion hosted in August.
Shifting focus to law firms, we see another departure in 2023 patterns compared to 2021 and 2022. Firm-hosted interviews picked up early, between May and June, leading to a lower peak in August.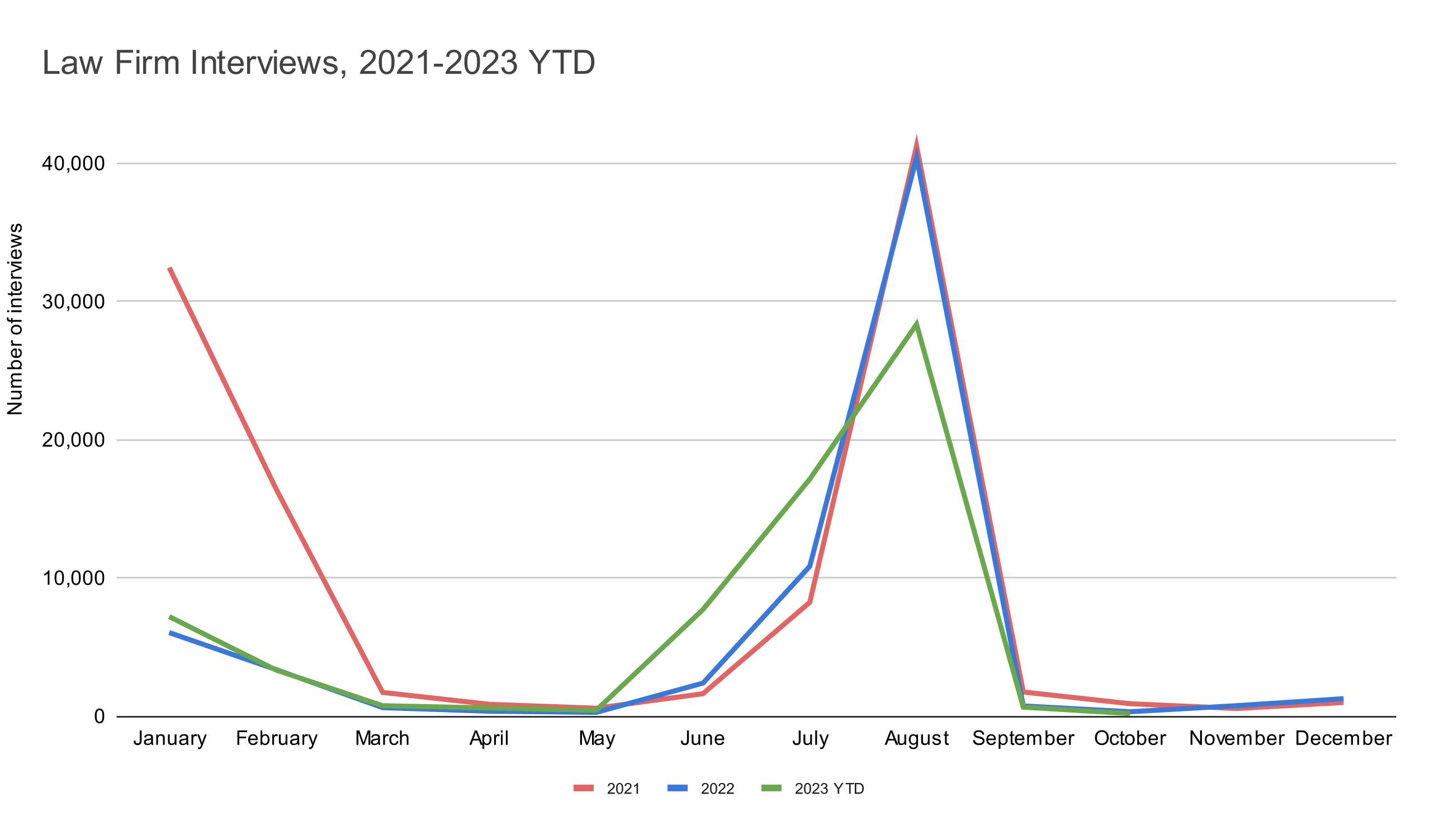 Data shows a 221% increase in interviews hosted by law firms in June 2023 compared to June 2022 – over 3x more June interviews YoY. We also see a 58% increase in July. By contrast, the August count decreased by 30% in 2023 compared to 2022, suggesting law firms both started interviews earlier and finished interviews earlier.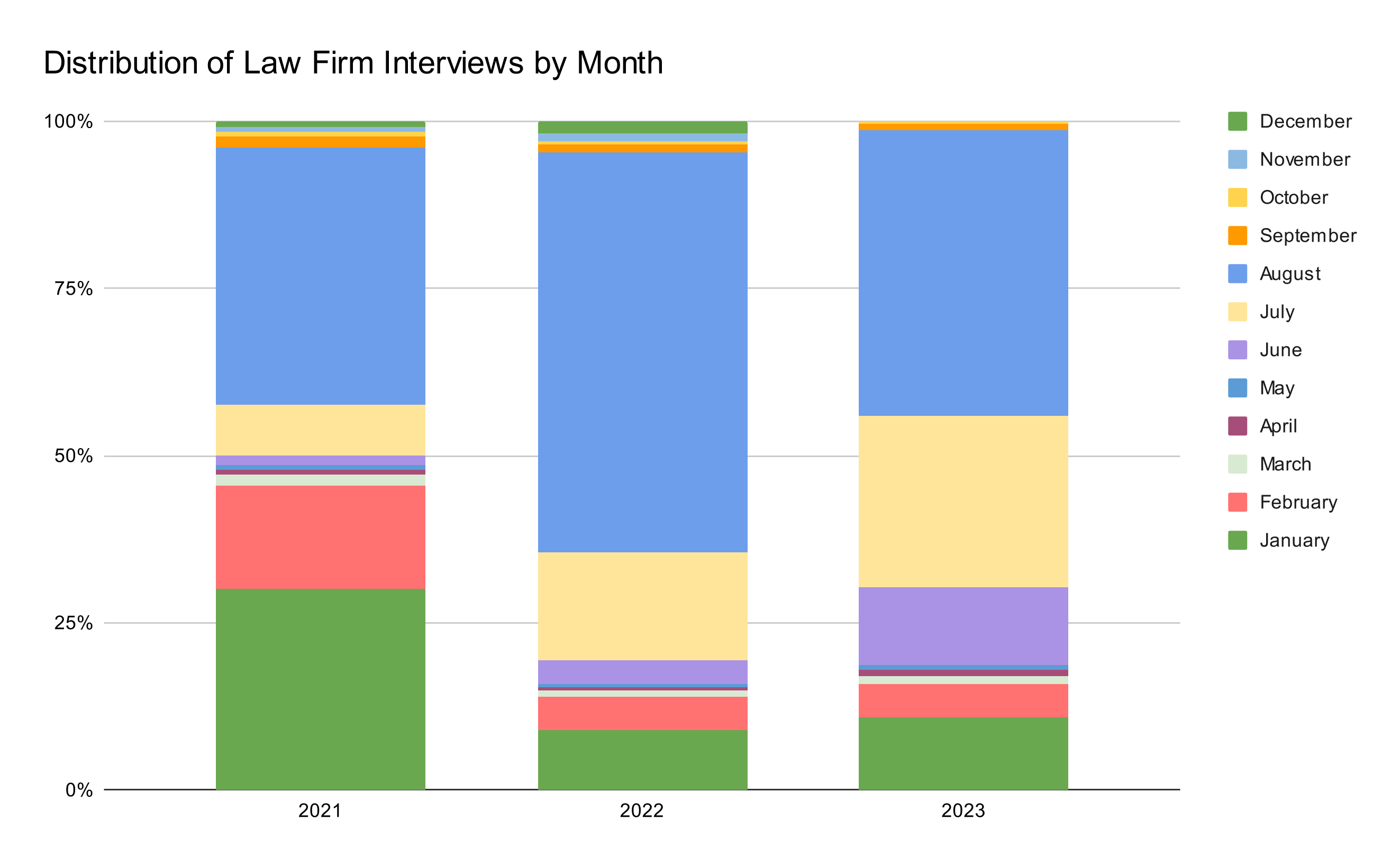 Zooming into the distribution of law firm interviews between June, July and August makes the shift, similar to that of law schools', clear. The 2023 summer spread moved away from August, into June and July.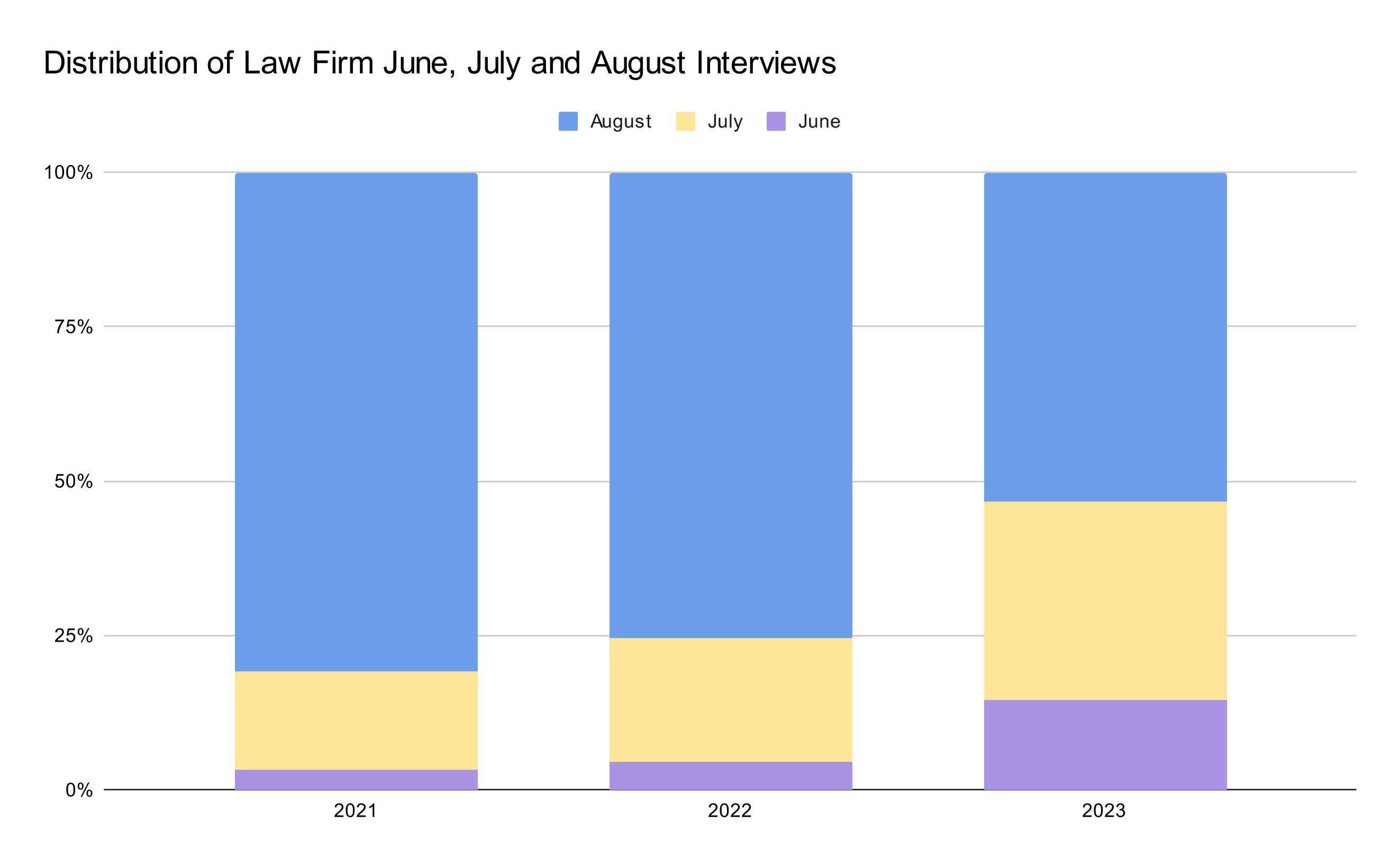 Viewing law school and law firm timelines together further develops the industry narrative. In 2021 and 2022, we see a sharp peak in law school interviews, OCI screeners, swiftly followed by a peak in law firm interviews, presumably callbacks. 2023, however, shows law firm interview volume rising before law schools'.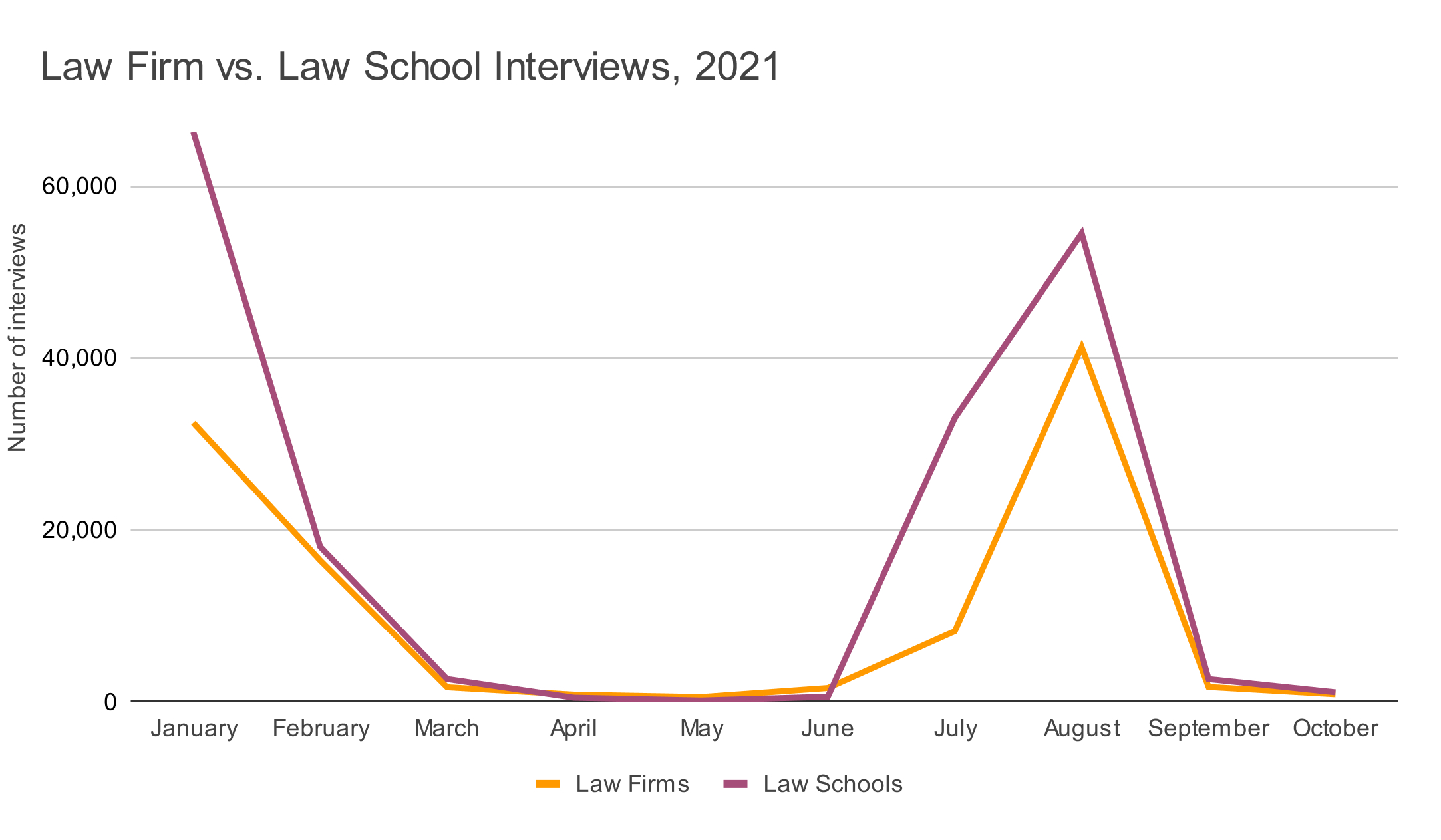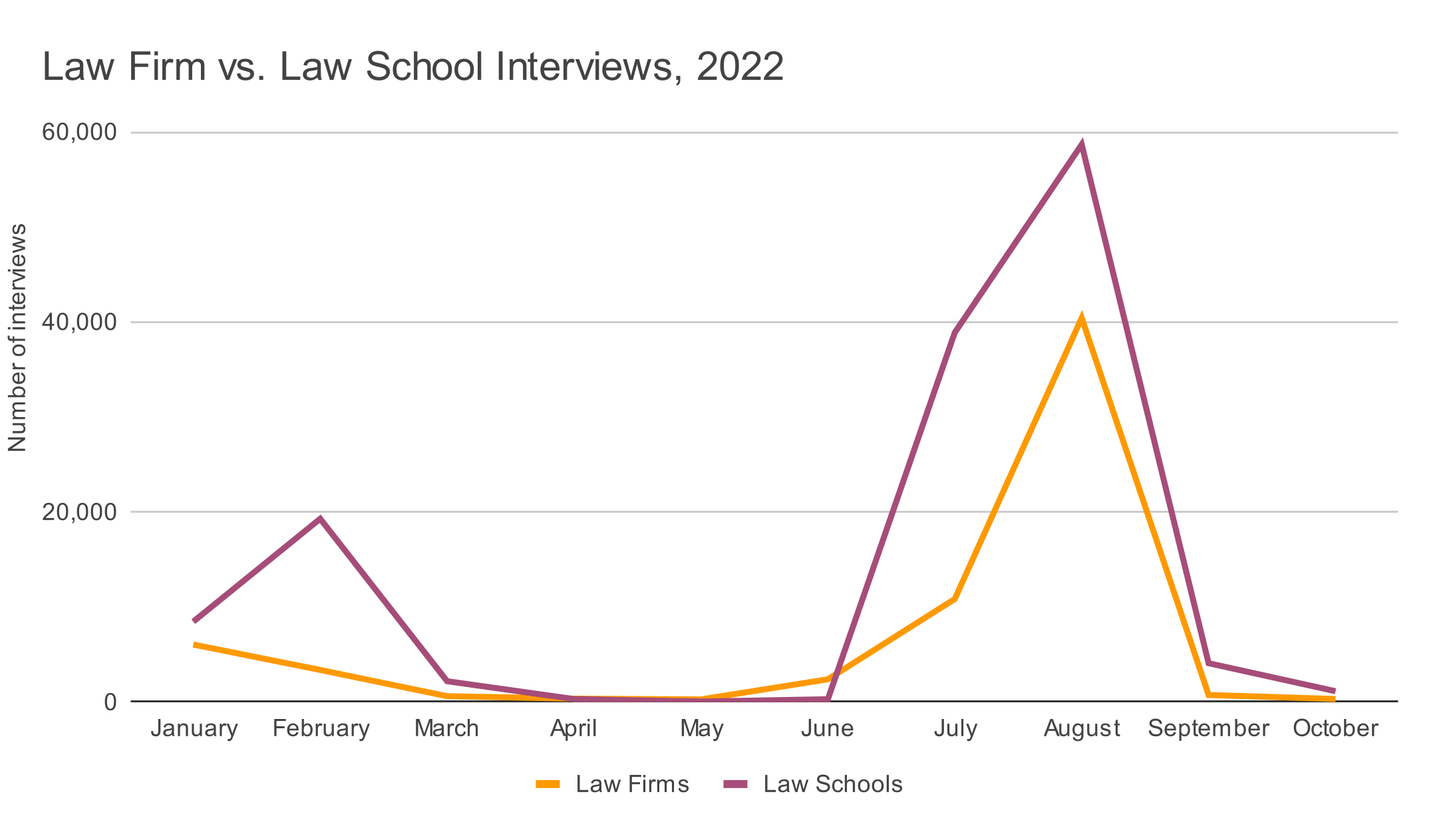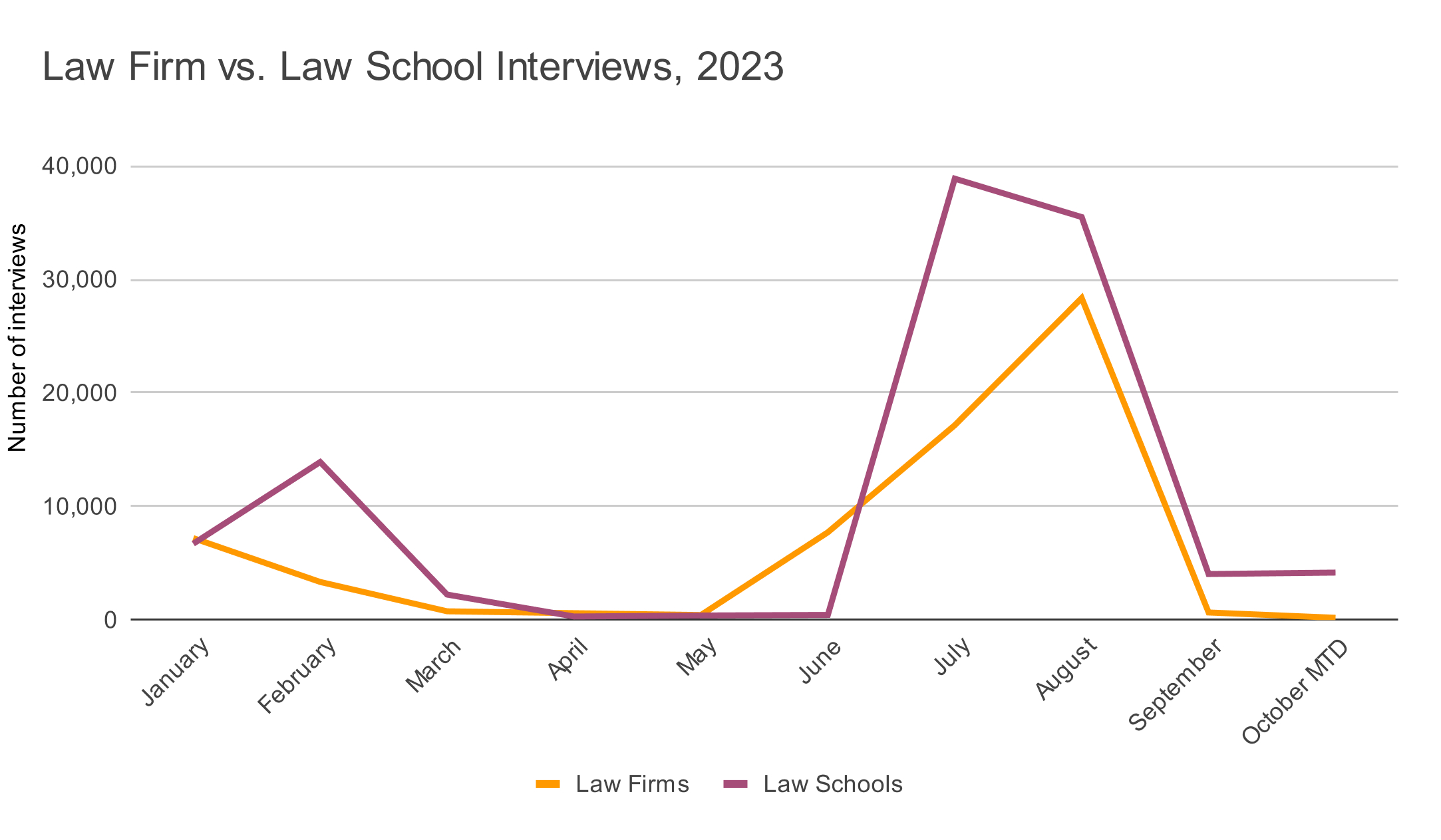 Above, note the sharp rise in law firm interviews between May and June 2023, before law school interviews kick off. By July 31, 2023, 46% of all law firm interviews hosted in June-August had already taken place, as opposed to 25% in 2022 and 19% in 2021. This results in a split timeline more like the below, where offers are made before OCI:
Viewing overall volume of interviews YoY below, we see 2021 as an expected outlier due to two 2L recruitment seasons included instead of one; on account of the COVID-19 pandemic, 2020 2L interviews were delayed until January 2021 to give the industry extra preparation time.
Between 2022 and 2023, law firms show negligible interview volume change, while law schools show a slight decrease. 2023 YTD numbers in part remain naturally lower due to missing November and December data to come.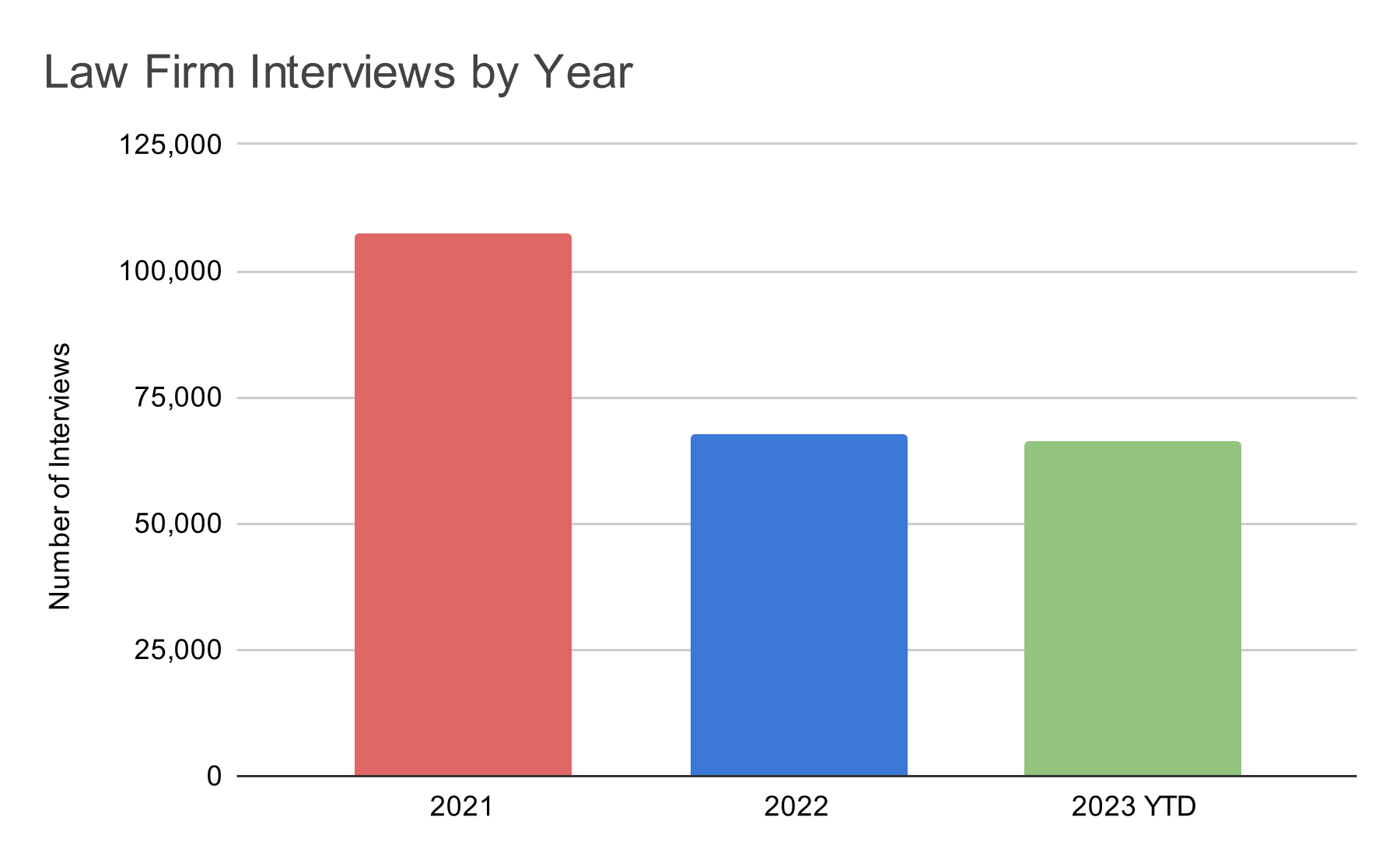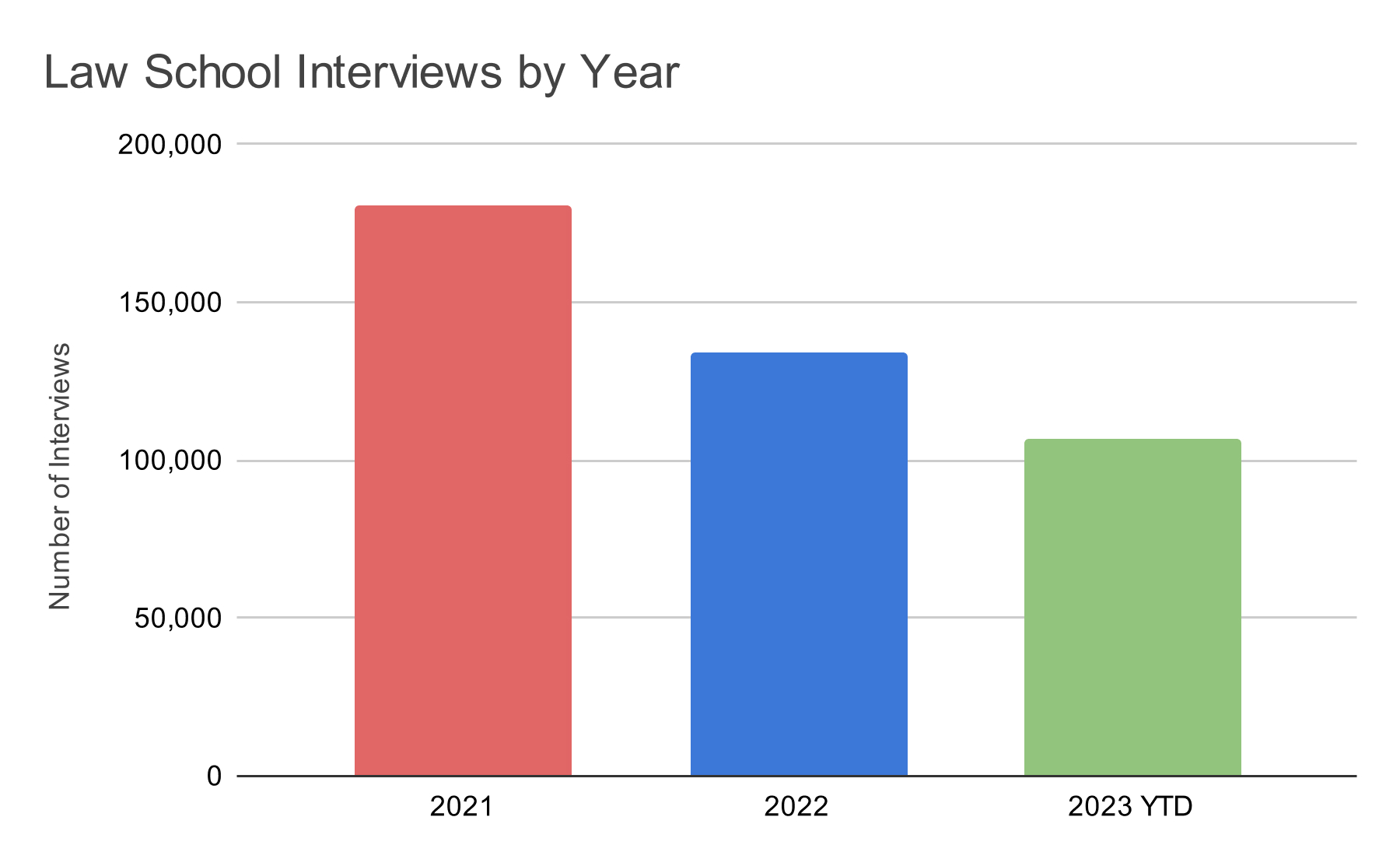 Zooming into June through August of each year below, we see a slight increase in interviews hosted by law firms YoY and, again, a decrease for law schools.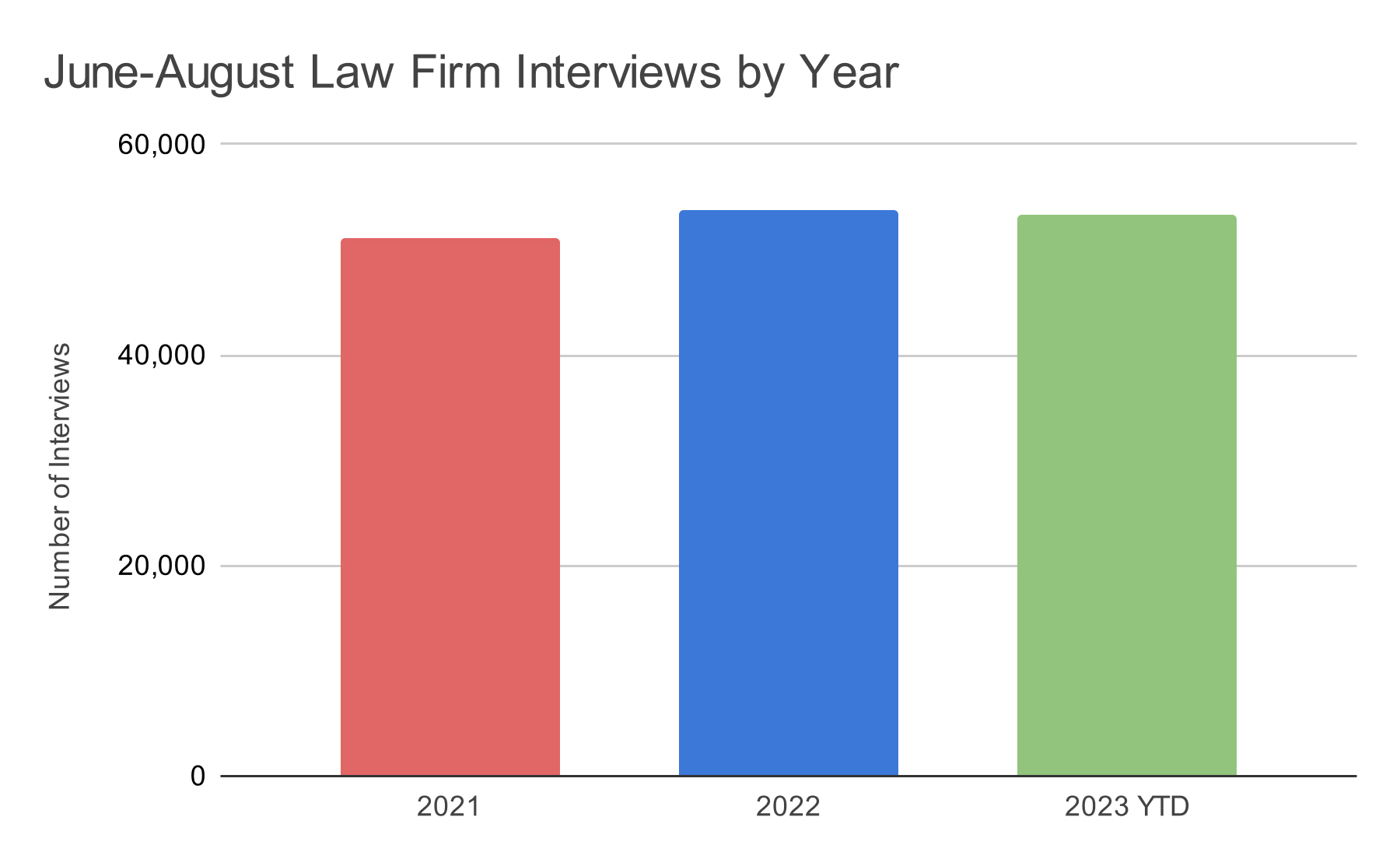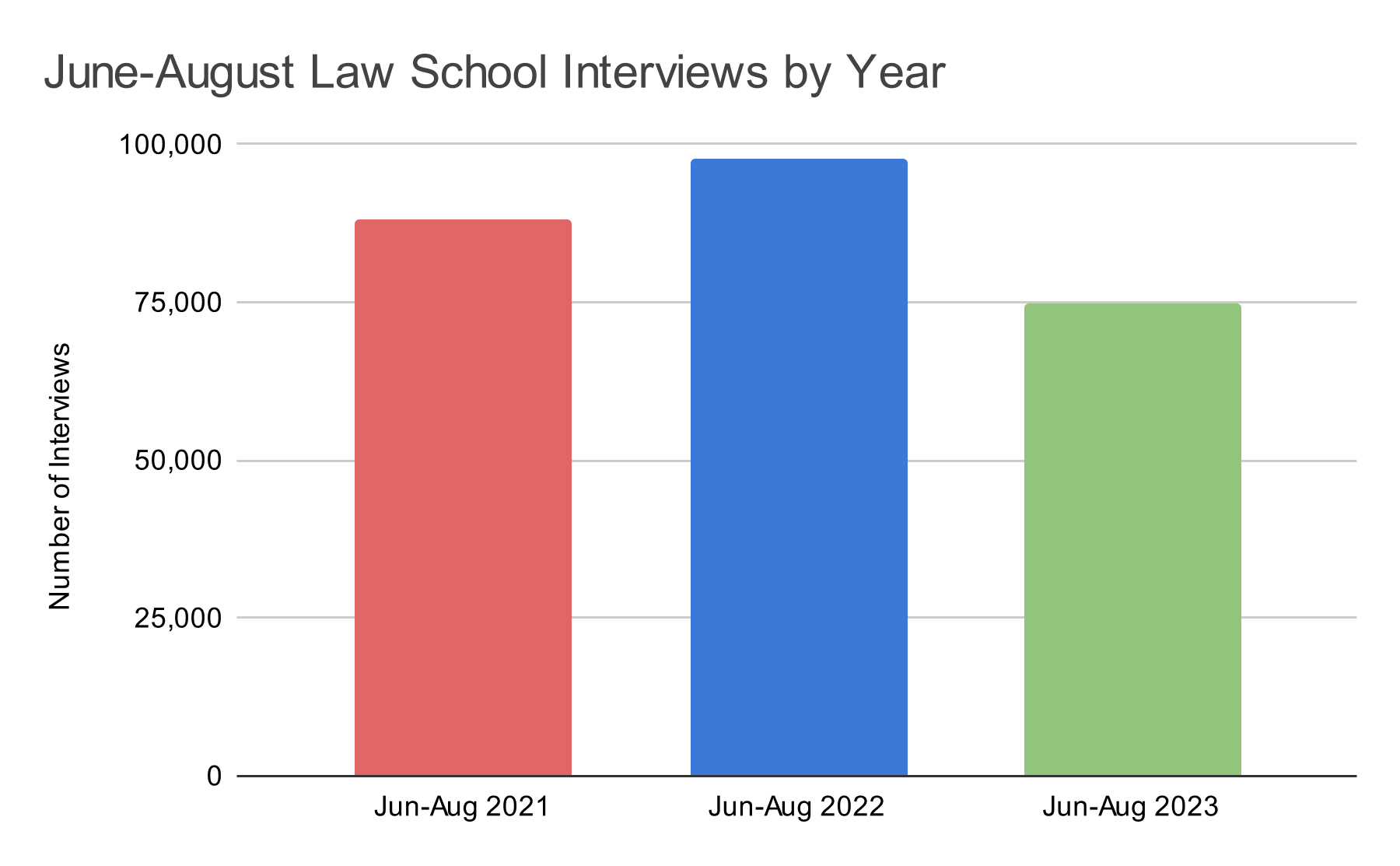 One possible explanation of the drop in law school interviews is a shift to in-person law school interview programs, which, unlike in-person law firm interviews, are not accounted for on the Flo Recruit platform. However, only six law schools canceled their Flo Recruit virtual interview subscriptions between 2022 and 2023, outpaced by the number of new schools who subscribed, making the in-person shift unlikely to affect data. Note in-person interview demand typically comes from regional law schools serving regional employers.
A second possible explanation is that some law school interviews were canceled, or that fewer schedules were offered from the start, due to law firms hiring students before OCI. Anecdotal evidence supports this theory; Flo Recruit law school clients reported historic schedule changes and cancellations in 2023 due to students pulling out of OCI, having already accepted offers.
Flo Recruit 2023 interview data quantifying early interview shifts aligns with trends discussed in NALP's 2022 Annual Entry-Level Law Firm Recruiting Report. The NALP report shows that 23% of all offers made by law firms in 2022 were early offers made prior to the start of OCI's, an increase of 11% from fall 2021.
Next, Flo Recruit will share parallel insight on pre-interview law student engagement trends from the past three years, exploring how employer outreach to law students and school-hosted networking events have shifted, as well. Follow Flo Recruit on Linkedin to stay up to date!