Unlocking Growth: How Modern Recruitment Tech Empowers Midsize Law Firms
Explore the transformative potential of recruitment technology tailored to midsized firms' needs, driving efficiency and candidate fit
Bigger isn't always better, as demonstrated by who's leading the legal industry with key performance metrics in 2023: midsized law firms. These firms now lead the pack in lawyer headcount growth, outpacing the industry's giants. According to a recent report from Thomson Reuters, the average midsize law firm boasts 5.1% more lawyers than just a year ago (beating the AmLaw 100 by more than 2%), reflecting an aggressive stride toward expansion and success.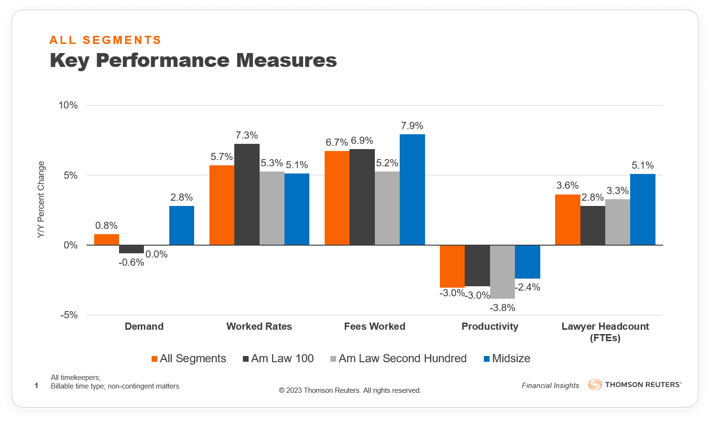 Image source: https://www.thomsonreuters.com/en-us/posts/legal/midsize-law-firms-kpis/
This blog explores how this newfound momentum creates a window of opportunity for midsize firms and how modern recruitment technology, tailored for the challenges of midsized firms, is poised to be their secret weapon.
Changing dynamics drive recruitment shift
The nature of legal recruiting is shifting, not just in how firms approach recruitment but also in the attitudes of law students and lateral attorneys in choosing where to land and what firms can do to influence their decisions. Legal talent increasingly values factors like firm culture, partner track (and the percentage of associates to make partner), work-life balance, and specialized expertise over sheer size and brand recognition. This shift aligns with midsize firms' strengths.
While midsized firms have benefited most from the increased demand for legal services across counter-cyclical practice areas like bankruptcy, litigation, and labor & employment disputes, headcount growth in this market represents a substantially more expensive endeavor than in years past.
This paradigm shift offers a golden opportunity for firms to invest in tools and infrastructure that support hiring efforts.
Recruitment technology tailor-made for midsize success
Unlike traditional recruitment methods that often favor BigLaw's volume-based hiring and a larger pool of resources, modern technology is designed to help firms find the perfect fit – both for the firm and the candidate – with economies of scale and effort in mind.
These tools streamline the recruitment process, making it more efficient, transparent, and targeted. Software like Flo Recruit enables midsize firms to spend their time and energy showcasing their unique strengths, such as their commitment to mentorship, individual growth, and innovative legal practices while reducing the time and strain recruitment presents.
Efficiency in action
Midsize firms are known for their efficiency and lean teams. The right recruiting tools align with this ethos by offering simplified platforms that empower HR and recruitment teams to focus on their core tasks – identifying top-tier talent that aligns with the firm's values and goals. This means that even with limited IT, marketing, and budget resources, midsize firms can compete on a level playing field with firms that may have broadly known name IDs or higher salaries.
Software like Flo Recruit Applicant Tracking provides a streamlined, efficient process that enables understanding of candidate status quickly and informed decision-making.
"Implementing Flo Recruit has been a game-changer for the Kramer Levin team. It has saved us an estimated 30% of our time and effort through automation." — Samantha Ramsey, Legal Recruiting Manager at Kramer Levin Naftalis & Frankel LLP
This shift from managing technical intricacies to fostering meaningful connections can give midsize firms a significant edge in the competition for top talent.
Accelerating the time to hire
The change in how lateral candidates approach their careers, from focusing on big names and salaries to focusing on firms that align with their professional goals and lifestyle, shows how fast the legal market can change. To capitalize on the shift in attitudes, not to mention secure top talent before competitors do, midsize firms should leverage recruiting tools that expedite the recruitment cycle without sacrificing quality, ensuring that midsize firms remain agile, responsive, and poised to seize opportunities as they arise.
"Having a centralized candidate profile, where the team can enter and view their interaction histories and attorney interviewer feedback, in a single place, is the perfect way to understand a candidate's background and experience." — Samantha Ramsey, Legal Recruiting Manager at Kramer Levin Naftalis & Frankel LLP
For example, Flo Recruit's candidate review and automatic scheduling simplify communication, tracking, and evaluations, ensuring your firm doesn't lose out on quality candidates due to unnecessary delays.
Maximize the value of attorney time
Although midsized firms benefit from demand for counter-cyclical legal services, they're challenged to maintain productivity per lawyer as demand for services doesn't outstrip the impact of an increased headcount. With this in mind, midsize firms need to ensure their attorneys' time is spent on billable or client relations work wherever possible. This includes streamlining the interview process to maximize their participation.
Modern solutions like Flo Recruit Applicant Tracking facilitate processes that optimize attorney time, automate administrative burdens, and leverage historical candidate profiles to prevent time wasted on the wrong candidates. Taken together, tools like Flo Recruit ensure midsize firms can direct attorneys' focus toward billable work and client relationships. This technology-driven approach aligns with the agile nature of midsize firms and positions them for success in the changing legal talent market.
Embrace the opportunity
In this era of change, midsize law firms have the chance to emerge as front-runners in hiring. Their growth trajectory and innovative approaches to legal services have already redefined success in the legal industry. By embracing modern recruiting tools, midsize firms can bring those same innovative approaches to recruiting to amplify their efforts, attract top-tier talent, and ride the wave of change to success.
Discover the power of Flo Recruit
To learn more about how Flo Recruit's technology suite can revolutionize recruitment for midsize firms, explore how Kramer Levin overcame legal recruiting challenges: Read the case study. Your journey towards a more efficient and impactful recruitment process starts here.